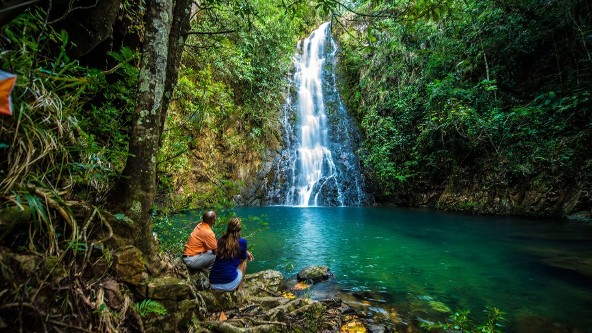 Have you ever heard of Belize? It's the only country in Central America where English is the primary language, and it's considered a hidden gem for travelers. Unlike other tourist hotspots, Belize offers a unique blend of island vibes, Caribbean flair, and remarkable Mayan ruins. Plus, it's home to over 600 fish and coral species in the second-largest reef in the world.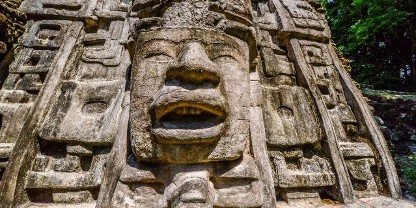 Despite being the second smallest country in Central America, Belize has a lot to offer. It shares borders with Mexico and Guatemala and gained independence in 1981, making it one of the world's youngest nations. With a population of approximately 420,000 people from diverse cultures, you'll discover a unique selection of native artworks and handicrafts throughout the country.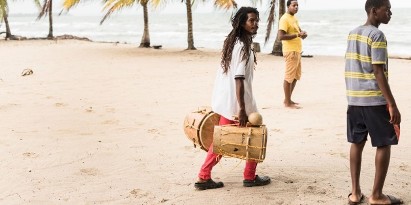 If you're looking for some amazing sights to see, Belize won't disappoint. You can enjoy the sun-drenched coastline and exotic islands, explore biodiverse rainforests, visit historic Mayan ruins, and snorkel or dive in the Belize Barrier Reef, which is the second-largest barrier reef in the world.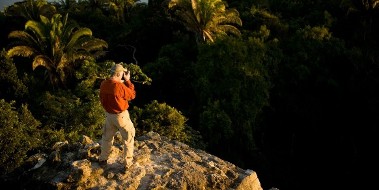 The Culture
Belize is a truly remarkable country, offering a unique blend of cultural diversity and historical significance. As the only English-speaking nation in Central America, it stands out from its neighbors and shares a rich heritage with its Caribbean counterparts. The Maya, Creole, Mestizo, and Garifuna communities have all played a significant role in shaping the country's culture, leaving an indelible mark on its people and traditions.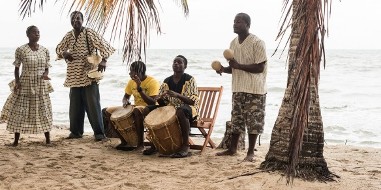 One of the most striking aspects of Belizean art is its vibrant use of color. This can be seen in various forms, from the intricate designs on clothing to the handmade handicrafts that can be found throughout the country. For those interested in learning more about the Garifuna culture, there are several small museums dedicated to their history and traditions.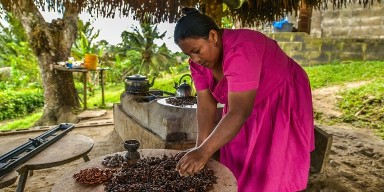 The Gulisi Garifuna Museum in Dangriga is particularly noteworthy, featuring exhibitions on clothing, everyday items, and other artifacts that provide valuable insights into the Garinagu's migration to Belize. For a truly unforgettable experience, visitors can also take part in a Garifuna drum tour in the Caribbean village of Hopkins, where talented drummers create mesmerizing rhythms by the beach.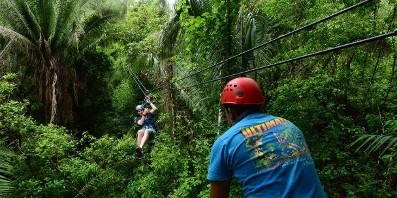 TIP: Here you can read more about the 11 best things you shouldn't miss in the beautiful village of Hopkins.
In addition to its rich cultural heritage, Belize is also home to some of the most significant Mayan ruins in the world. Altun Ha, for example, is a must-see destination for anyone interested in ancient history. Consisting of two main plazas with thirteen primary structures, it provides a fascinating glimpse into the lives of the Mayan people. One of the most impressive artifacts found here is a large jade head of the Maya sun god, Kinich Ahau. For those seeking a more adventurous experience, the Caracol site within the heart of the Chiquibul Forest Reserve offers a breathtaking panoramic view of the jungle from its highest and most spectacular Mayan ruin. Whether you're a history buff or simply looking to immerse yourself in Belize's fascinating culture, these Mayan ruins are sure to leave a lasting impression.
The Nature
Beloved for its remarkable biodiversity, Belize is a true paradise for nature enthusiasts. The country boasts a staggering 17 national parks and wildlife reserves, each providing essential protection to an array of exotic animal species. Among these are over 500 bird species, making Belize a hotspot for birdwatchers all over the world.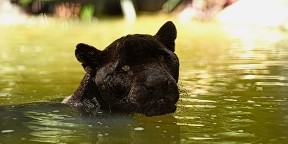 Impressively, nearly 70 percent of the country's land is under conservation or designated as a national park. Recently, Belize expanded its environmental efforts by designating 955 square kilometers of rainforest in the Maya Forest as a protected zone. Additionally, the marine reserve has been extended, further safeguarding the country's incredible natural resources.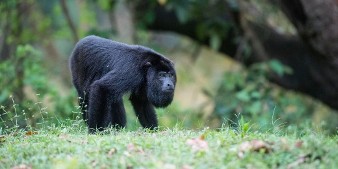 Perhaps one of the most remarkable highlights of Belize's national park system is the Cockscomb Jaguar Reserve. This unique reserve is the only one of its kind in the world, devoted solely to protecting jaguars. Visitors to the reserve can also spot other awe-inspiring wildlife species, such as pumas, ocelots, and tapirs.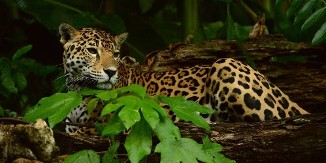 For those seeking a more adventurous experience, the reserve offers a thrilling zipline tour, which takes visitors soaring over the treetops, 20 meters above the jungle floor. Another exciting adventure to enjoy is exploring the cave system along the Caves Branch River.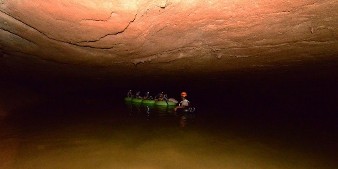 With the aid of a headlamp, visitors can navigate the winding river in an inflatable boat, marveling at the breathtaking beauty of the cave system. With so much to experience, Belize is a must-visit destination for anyone who loves nature and adventure.
The Belize Barrier Reef
As you glide gracefully past the vibrant coral formations that adorn the eastern coast of Belize, you'll be accompanied by nurse sharks and dolphins. This stretch of coastline is home to the Belize Barrier Reef, which is the second-largest reef system in the world.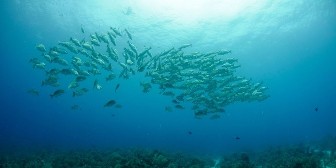 An impressive 500 species of fish, along with turtles, manatees, 70 species of hard corals, and 36 species of soft corals, call this place home. In recognition of its exceptional value, the 298-kilometer-long barrier reef was designated a UNESCO World Heritage Site in 1996. This year, the reef celebrates its 10,000th birthday and stands as a successful example of a largely intact and healthy ecosystem.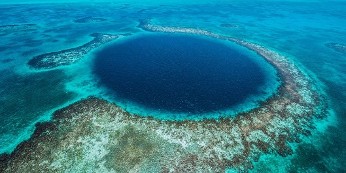 The Great Blue Hole, a 125-meter-deep and 300-meter-wide sinkhole, is by far the most popular dive spot within the reef. It's even visible from space! To explore the underwater world of the reef, you can visit the eastern or southern parts of the country, and take a short boat ride as part of a snorkeling or diving excursion. The Belize Barrier Reef comprises a total of seven protected areas, ensuring that its natural beauty and ecological importance will be preserved for generations to come.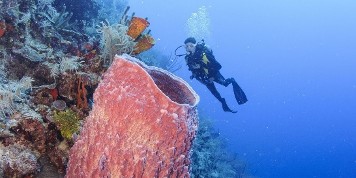 Here is your very own Belize Barrier Reef bucket List:
Bacalar Chico National Park and Marine Reserve: A hidden gem in an untouched environment boasting incredible biodiversity. Situated on Ambergris Caye, the largest island in the country, Bacalar Chico National Park and its marine reserve are ideal destinations for unique adventures.
Blue Hole Natural Monument: The Great Blue Hole is Belize's top tourist attraction. You have the option to either take an aerial tour by plane or charter a boat for a snorkeling or diving adventure.
Half Moon Caye Natural Monument: Half Moon Caye Natural Monument, with its white sandy beaches, incredibly blue waters, and lush vegetation, is home to endangered species such as the Loggerhead Sea Turtle and Nassau Grouper, as well as colonies of Red-footed Boobies and Leaf-nosed Bats.
South Water Caye Marine Reserve: Following a majestic Hawksbill Turtle as it gracefully swims through the deep blue sea is sure to be one of those unforgettable vacation moments. You can experience this at the South Water Caye Marine Reserve, which is approximately an hour and a half from Placencia.
Glover's Reef Marine Reserve: A partially submerged atoll in southern Belize with white sandy seabeds and depths of around 15 meters. It hosts a variety of underwater species, including groupers, spotted eagle rays, turtles, and other marine inhabitants.
Laughing Bird Caye: Named after the laughing gull that used to breed here, this tiny island located just 17 kilometers off the coast of Placencia is part of the eponymous national park. Here, you might encounter giant lobsters and occasionally a family of dolphins.
Sapodilla Cayes Marine Reserve: Located approximately 65 kilometers east of Punta Gorda, the eastern and western boundaries of the reserve follow the 100-meter depth contours along the reef. In the shallow reef sections, seagrass beds, and deep drop-offs, you'll find a variety of Caribbean fish species.
The Most Beautiful Sunsets in Belize
As the day draws to a close, there's nothing quite like taking a moment to soak in the serene beauty of a stunning sunset. Belize, with its breathtaking landscape, offers a plethora of picturesque spots to do just that. While Caye Caulker is renowned for its mesmerizing sunrises, the back end of the island boasts a panoramic view of the evening sky that is sure to leave you in awe.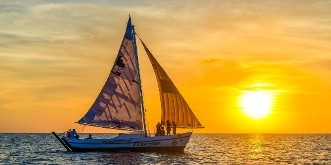 If you're looking for a more adventurous way to experience the sunset, the Hummingbird Highway is a must-visit. This scenic highway is dotted with charming villages, cascading waterfalls, verdant orange orchards, and majestic mountains bathed in the warm glow of the setting sun.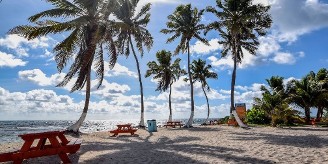 Another must-see sunset spot is the Mountain Pine Ridge, where the sunbeams filter through the pine forest canopy, creating a magical atmosphere. For those seeking a more laid-back experience, Sarteneja, a quaint fishing village in northern Belize, is the perfect place to be. With the slogan "Where the sun sets on the water," you'll have the evening spectacle of the sunset almost all to yourself, making it a truly unforgettable experience.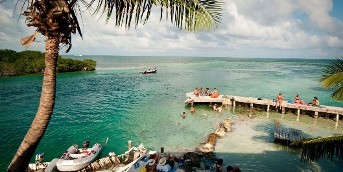 So there you have it, Belize truly is the insider tip among exotic countries. From its stunning beaches and crystal-clear waters, to its rich culture and friendly people, there is something for everyone in this hidden gem of a country. So pack your bags, book your flight, and get ready to experience the adventure of a lifetime in Belize. You won't regret it!