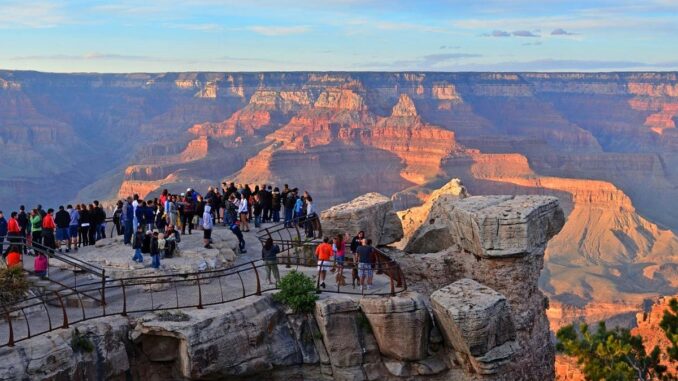 Introduction –
If you are ever visiting Las Vegas, then your full-day trip will also offer you a comfortable and fun way to see the Hoover Dam, Joshua Tree Forest, and the Grand Canyon through the West Rim. The tour requires you to travel by motorcoach, but there is an option for travel in which you can travel the canyon itself in a helicopter. Plus, you can also take a short boat ride on the Colorado River. Besides that, tourists can also take a walk on the glass-bottomed Grand Canyon skywalk. Apart from all of that, you will also get the Adventure tourism packages of the Great Canyon, hot lunch, and a show of the Wild West at the Hualapai Ranch.
Helicopter Tour of the Grand Canyon
Here, you can get picked up from your motel or hotel in Las Vegas in a good vehicle, like a luxurious one, and get transported to the helicopter area or pad, where you will be taken to the Grand Canyon, which is a 45-minute flight in total. The flight includes flyovers of the Hoover Dam, the Las Vegas Strip, Lake Mead, and so on. They will also take you down 3,200 feet below the rim of the canyon, where you can enjoy the champagne picnic and explore the place for half an hour before being taken back and flying to Las Vegas. It will be worth your time and money.
Grand Canyon Jeep Tour
At a bargain price, this 2-hour guided Jeep tour provides a world-class experience. All you have to do is get yourself to Arizona or Tusayan at the edge of the National Park, and once you are there, your tour guide, who has in-depth knowledge, will pick you up and give you a personalised fun tour, including plenty of stops for complete exploration of the Canyons' geology, history, and so on. The jeep tour will then conclude with a screening of the IMAX movies about the Grand Canyon at the NG visitor centre before returning you to your hotel in Tusayan.
Self-drive to the Grand Canyon's West Rim from Las Vegas. –
If you are in Las Vegas and don't have a car and want to see the Grand Canyon but don't want to share a car with a full load of people, then consider the self-driving day trip choice. You can get picked up from your hotel, and later you will reach an SUV that is fully-glassed, in which you will get thorough maps, driving directions, and a complete itinerary, including vouchers for a hot lunch and a bus tour. You can also choose this kind of travel. It is all up to you.
Grand Canyon South Rim Airplane Tour from Las Vegas-
You will be picked up from your hotel in Las Vegas and shuttled to the Henderson Executive Airport. There, you can board the Beechcraft 1900D, which will take you down to the South Rim of the Grand Canyon, which has fewer tourists. It takes 45 minutes to get there, and you can see all of the beautiful views; it also includes ground transportation at the canyon. The trip also comprises a visit to Bright Angel Lodge and another place called Mather Point, where you will get water and lunch. Besides all of that, the trip also comprises a 25-minute helicopter flight through the deepest portions of the GC.