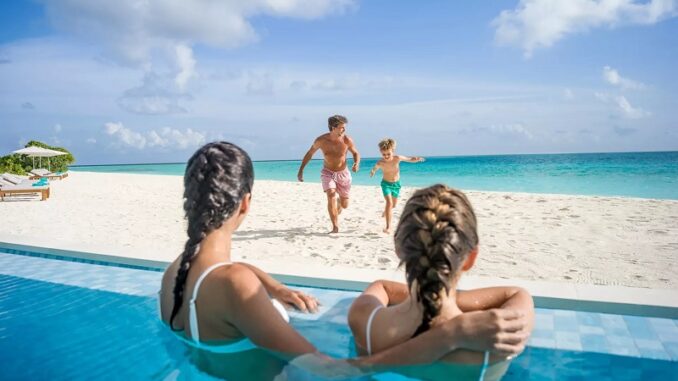 Made plans for your 2023 winter escape yet? If you're still deliberating on the right destination for you, here are 5 reasons why you should end the year in the Maldives.
1. Plenty of Scenic Spots to Soak up the Sun
This one's easy. Snow or sand?
Escape the clutches of winter and replace cold winds with warm, summery breezes in the Maldives. You'll get to trade icy sidewalks for stretches of soft sand that melt beneath your feet while getting plenty of vitamin sea and vitamin D :D.
2. Luxurious Seclusion
The Maldives naturally lends itself to privacy and seclusion. Formed of thousands of small islands, this archipelago offers a seemingly endless number of private islands that are home to 5-star resorts waiting to cater to every whim of their guests. Only guests and staff set food on these islands and so it already offers an exclusive escape. From one of these islands, for miles on either side, you can normally only see the glimmering waters of the Indian Ocean, not even another island on the horizon (and if you do, they usually tend to be affiliated with the resort in some way).
Adding to that is the way that Maldivian resorts tend to be structured; while, in the past, there were more hotels which offered a mix of traditional rooms and chalets, in recent years, this style has become antiquated, with resorts opting for more private and luxurious accommodation offerings for their guests: villas and suites. Every guest feels like they are the only person on the beach or overlooking the water; the villas and suites are built in such a way that nature views are maximised and the existence of other villas and their inhabitants are hidden or muted, for the most part.
When it comes to luxurious seclusion, there's another reason that the Maldives is hard to beat. This destination has such a large variety of overwater villas to choose from. Almost every luxury resort in the Maldives offers this kind of accommodation nowadays, and they are a real treat. When you escape the chill of winter with your family, one of these 1 or 2-bedroom water villas in Maldives (shown below) is the kind of place you envision yourself at: beautiful ocean views to wake up to; steps leading directly into the water, with the ocean feeling like your private backyard; no sounds of traffic or markers of urbanisation for miles in almost every direction: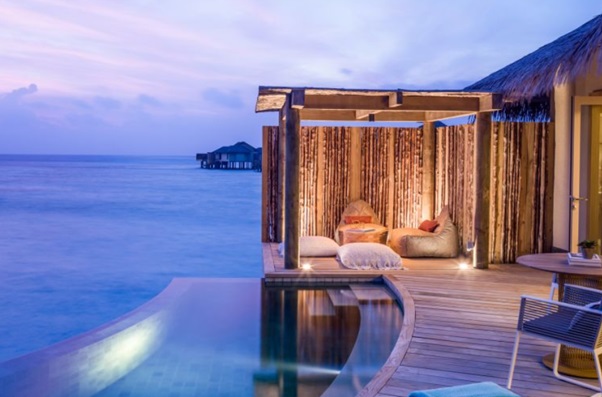 https://maldives.intercontinental.com/villas-residences/villas/sunset-overwater-pool-villas
3. Watersports & Marine Life
Soothingly warm, tropical waters surround the isles of the Maldives and one of the best ways to enjoy them is by engaging in the many watersports that the resorts offer.
From a relaxing session of snorkelling at your resort's house reef to a thrilling session of jet skiing, waterskiing or kitesurfing or even just enjoying a laidback session of kayaking, there's no shortage of aquatic activities to enjoy.
The waters teem with life and if you love marine animals, you're sure to enjoy spotting everything from colourful fish and coral reefs to manta rays, turtles and a range of other sea creatures when you're out snorkelling or scuba diving.
A lot of resorts offer excursions further out into the sea so that you can spot creatures like dolphins. Some resorts offer experiences such as snorkelling with nurse sharks (don't worry – despite their name, they aren't dangerous and mind themselves).
4. Exotic & Romantic Dining Spots
While it might be snowing back home, over in the Maldives, you could be wooing your better half with a romantic dinner under the stars, with the waves lapping at the sand just a stone's throw away.
From dining by the water or on the beach to feasting underneath the waves at exclusive underwater dining restaurants, the Maldives has plenty of options for dining options that are sure to impress significant others as well as family.
5. World Class Spa Centres
Lastly, who can say no to being pampered by the waves?
While not-so-adventurous peers back home deal with the aches and pains of trudging through snow and navigating slippery paths, you could be unwinding with a soothing massage at a place like this instead:
Need more be said?
If you're convinced now that a Maldives getaway is the perfect winter escape, you'd best get started on booking your stay right away, as you're likely not the only person who's had this thought.
December's a peak season in the Maldives, so book your resort(s) early to avoid disappointment!