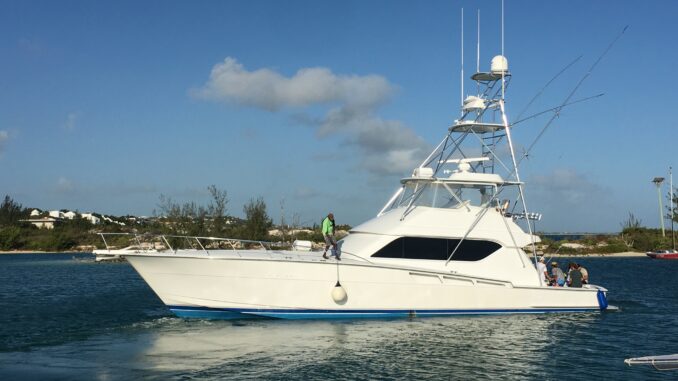 As Spring edges on, an influx of tourists, from college students to the Kardashians, are flocking to the cozy Caribbean oasis of the Turks and Caicos Islands. While it is a highly coveted jet-setting destination for the rich and famous, yacht charter and private fishing adventure experiences like the company Catchin' Caicos turn any getaway into unforgettable oceanside bliss.
Not a day goes by where the turquoise waters of Turks and Caicos aren't full of fish to reel in. Year-round species include grouper, snapper, triggerfish and bonefish; catches specific to early spring include mahi-mahi, tuna, barracuda, and sailfish, the last of which are catch-and-release only. Once the angling is complete for the day, visitors aboard their vessels shuttle their daily catch home to dine and decompress by gorgeous seascapes. Often guests of Catchin' Caicos carry their catch to a local eatery to enjoy a true fisherman's dinner.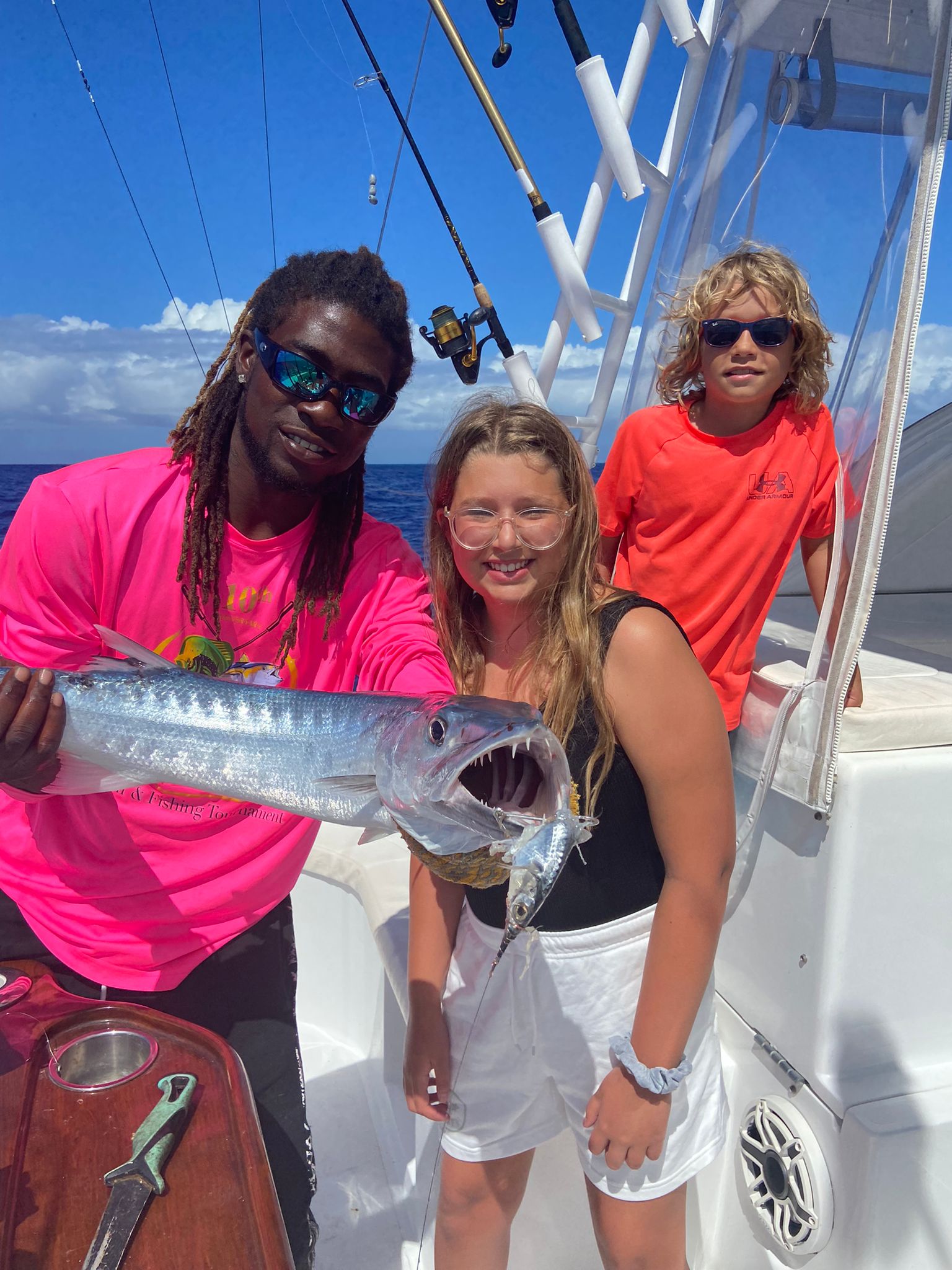 An unmatched commitment to high-quality service places Catchin' Caicos at the upper echelon of luxury sports fishing adventures. Following a fruitful winter fishing season, Captains Roy, Codney and crew continue to assist deep-sea and shallow water expeditioners in catching the sea's toughest fish to their heart's content.
Guests can peruse the Turks and Caicos waters for the finest and freshest fish, exploring the forty islands and cays along the way on their vessel of choice: a fully equipped 36' Benchmark Catamaran outfitted with a double-hull and 430hp diesel engine, or a 60' Hatteras yacht, both of which boast a vast fighting deck to battle and subsequently take home prize-winning fish.
Each vessel is outfitted with top-of-the-line fishing equipment: Talica TAC50II Drag Reels on the Benchmark and Shimano Tiagra TI80WA 2-Speed Lever Drag Reels on the Hatteras, all mounted on Blackfin rods. This unbeatable combination of cold-forged reel and rod creates a drag system durable enough to sustain extensive battles with fish on the hook.
If a mere day trip aboard these plush platoons isn't sufficient, Catchin' Caicos offers an overnight trip package, complete with a sunset cruise and serene views of the starry sky visible from the ship's deck. Until the end of April whale watching season will carry on. Catchin' Caicos takes overnight guests off the Grand Turk and Salt Cay to witness the breathtaking annual humpback migration. Often, spectators will witness whale calves and their mothers in pods of five whales or more.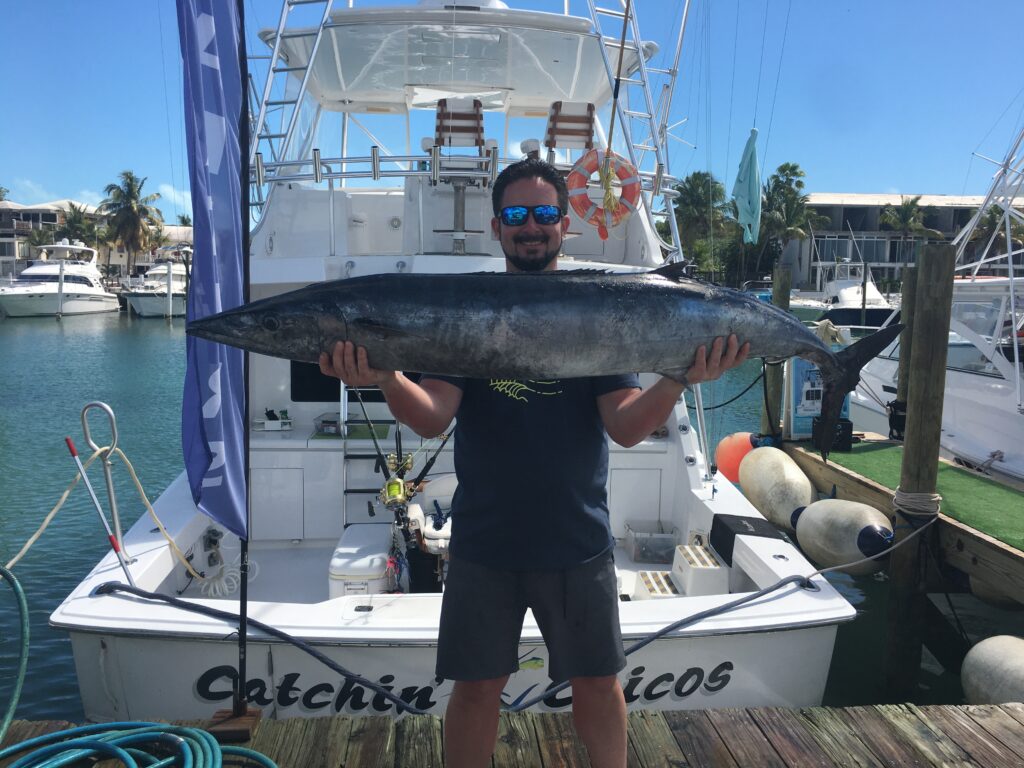 Catchin' Caicos boasts a flawless TripAdvisor review streak with 57 reviews all ranked 5/5 stars.  Guests like country singer Jason Aldean have enjoyed days of fishing onboard. Wendy D. wrote about her trip in February, detailing her "great time on our deep sea fishing charter with Catchin' Caicos! From beginning to end, CJ, Captain Codney and Nick gave us a personalized, friendly, and fun island fishing experience. Customer service is top notch. We were impressed with the boat, setup, and staff! Fishing with Catchin' Caicos was a highlight of our family trip and best of all we caught Wahoo for our dinner!"
A factor that keeps guests coming back for more is special, spontaneous experiences such as when "Marvin made us sushi from our catch," noted Jack T. The expedition was "excellent from the first phone call to CJ," and that level of excellence culminated in this charter being "the BEST we have ever had. First class from beginning to end."
As spring break ends, fewer occasions leave the whole family elated than days on the water around exotic fish and an exciting crew. Orchestrating a luxury experience on the crystal-clear waters of the Turks and Caicos is standard practice for the Catchin' Caicos crew. An unprecedented excursion through the Caribbean with rare and delicious fish, stunning seascapes and a knowledgeable crew all result in an unforgettable adventure aboard a dream vessel.
For more information or to book an experience, visit Catchin' Caicos' website or call 649-244-2927.