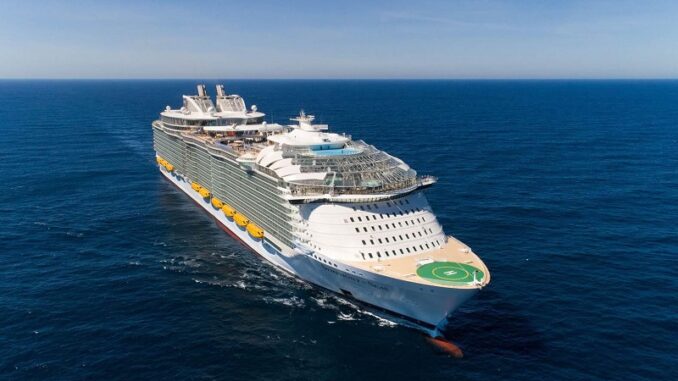 When it comes to a truly magnificent cruising experience, Symphony of the Seas stands tall as one of the most awe-inspiring ships in the world. Owned and operated by Royal Caribbean International, this cruise ship is a floating marvel that promises an unforgettable journey for its passengers.
From its sheer size to the plethora of onboard activities and amenities, Symphony of the Seas truly lives up to its name, offering a symphony of delights for travelers of all ages. In this comprehensive overview, we delve into the key features and attractions that make Symphony of the Seas a must-visit cruise liner for adventure seekers and relaxation enthusiasts alike.
A Floating Marvel: Size and Design
Symphony of the Seas is the fourth and latest addition to Royal Caribbean's Oasis-class ships. With a staggering length of over 1,180 feet and a maximum capacity of 6,680 passengers, this cruise liner is the epitome of grandeur on the high seas.
Its architectural design reflects contemporary elegance, blending state-of-the-art technology with a sleek and modern aesthetic. Symphony of the Seas offers a harmonious fusion of luxury and comfort, ensuring a delightful experience for all those who step onboard.
Endless Entertainment: Activities and Attractions
One of the standout features of Symphony of the Seas is the vast array of activities and attractions available to its passengers. Whether you're a thrill-seeker or looking for relaxation, there's something for everyone:
Ultimate Abyss: Calling all adrenaline junkies! The Ultimate Abyss is the tallest slide at sea, offering an exhilarating 10-story drop for those brave enough to take the plunge.
FlowRider Surf Simulator: Surf's up! Enjoy the thrill of catching a wave on this onboard surf simulator, suitable for both beginners and experienced surfers.
Central Park: Escape to nature amidst the high seas. Symphony of the Seas features a serene Central Park, complete with lush greenery, tranquil pathways, and chic dining options.
Vitality Spa: Indulge in pampering and relaxation at the Vitality Spa, where a range of rejuvenating treatments awaits.
Adventure Ocean Youth Program: The younger travelers can have a blast with the Adventure Ocean Youth Program, offering age-specific activities and supervised play.
Culinary Delights: Dining Options
Symphony of the Seas caters to foodies with its diverse dining options, ensuring that every palate is satisfied:
Main Dining Room: Experience world-class dining with a rotating menu of delectable dishes in the elegant main dining room.
Izumi Hibachi & Sushi: Enjoy the artistry of skilled chefs as they prepare delicious Japanese cuisine right before your eyes.
Coastal Kitchen: Exclusively for suite guests, Coastal Kitchen offers a curated menu of Mediterranean-inspired delights.
Windjammer Marketplace: A casual buffet-style venue serving a wide range of international dishes, perfect for a quick and satisfying meal.
Book Your Cruise
Now that you've uncovered the majesty of Symphony of the Seas, don't miss the opportunity to experience this extraordinary cruise ship for yourself. Book cruise today and embark on a journey filled with adventure, relaxation, and unforgettable memories that will last a lifetime. Get ready to be swept away by the grand symphony of luxury and excitement on the high seas with Symphony of the Seas. Bon voyage!
Conclusion
Symphony of the Seas stands as a testament to the ingenuity of modern cruise ship design, offering an unparalleled experience for travelers seeking the ultimate vacation at sea. From its remarkable size and design to the abundance of onboard activities and attractions, this majestic vessel caters to every whim and desire.
With its diverse dining options, world-class entertainment, and luxurious amenities, Symphony of the Seas promises an unforgettable adventure for all who come aboard. So, book your cruise today and set sail on a journey of a lifetime with Symphony of the Seas.