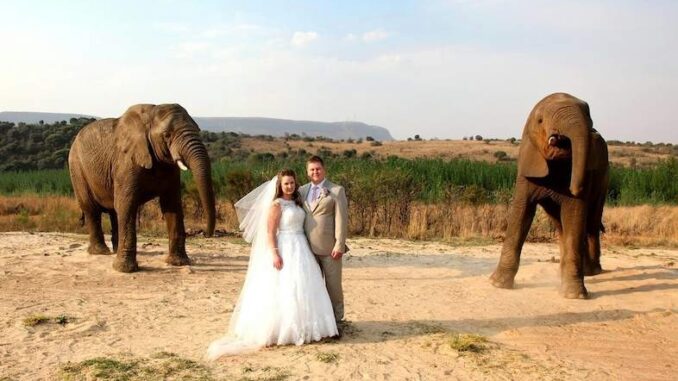 Getting married is a special occasion, and for adventurous couples, an African wedding safari could be the ideal setting to exchange their vows. But what exactly is a wedding safari, and why should couples consider it? This article will explore some of the possibilities so that couples can make informed decisions when planning their big day.
A wedding safari involves a unique combination of travel and celebration, set in the stunning African savannah. Couples will get to experience all that Africa has to offer, from wildlife watching and cultural encounters to romantic sunsets and delicious food.
This type of wedding also allows for a great deal of flexibility in terms of decorations, themes, and ideas. To make sure that your African wedding safari is well-organised and successful, consider carefully who will be part of the adventure. You may want to use professionals such as a wedding planner or tour operator to help you plan every aspect
What is a Wedding Safari?
A wedding safari is exactly as it sounds— a combination of a traditional wedding and an adventure in Africa! It involves getting married in one of Africa's spectacular natural settings, such as the savannah plains or iconic national parks. Couples can either choose to incorporate the wildlife experience into their ceremony or just go full-on adventure mode, taking photos with exotic animals while they celebrate their union.
The great thing about a wedding safari is that it offers a unique and special experience for the couple, their families, and friends, giving them all an opportunity to explore Africa's majestic beauty. It also provides a lifetime memory of tying the knot in the very heart of the continent.
The beauty of Getting Married on an African Adventure
Choosing to get married on an African safari means exchanging your vows in stunning natural surroundings with dramatic African sunsets for backdrops. Not only does this guarantee memorable photos, but it also offers something different from traditional weddings. What's more, it's a once-in-a lifetime opportunity to experience not only each other but also nature at its best!
Choose Your Dream Destination
What kind of destination should you choose for your African wedding? This depends on several factors, like budget and style. Here are some possible destinations suitable for wedding safaris in Africa: Kenya, Botswana, Rwanda, Tanzania, and Uganda, all offering something unique in terms of landscapes and wildlife experiences. Your wedding will be filled with memorable moments in some of the most stunning places on earth.
Discover Local Culture
When planning your African wedding, you can also look forward to visiting some of the local villages and cities. This will give you a chance to learn about the local cultures, sample some of the delicious foods, and even pick up some unique items for your wedding. Your African wedding will be filled with amazing memories that you'll never forget. Whether it's a romantic bush walk, a hot air balloon ride over the Serengeti, or going on an adventurous game drive, you can create unforgettable memories together in one of the most beautiful places in the world.
Start Planning the Big Day
There are many things to think about when planning your big day. These include: accommodation for yourselves and guests; transportation (hiring cars or 4×4 vehicles); food and drink options; if necessary, visas; a guest list; etc. It is important to remember that most locations do not have readily available amenities, so you need to plan ahead—think luxurious campsites rather than five-star hotels.
You'll also need to decide on a theme or style for your wedding, which will depend on the availability of vendors and services in the area. Are you looking for an extraordinary wedding experience? A traditional African-themed celebration could be just the thing! Bring vibrant hues and melodies to life with gorgeous decorations, traditional music, and mesmerising ceremonies that will leave a lasting impression on your guests. Or, if you prefer a more contemporary feel, why not try a minimalist alternative to make your day truly unique?
For couples looking for something special on their wedding day, a safari in Africa is the perfect option. Enjoy beautiful and stunning landscapes combined with exciting wildlife encounters—an African wedding safari promises to be an unforgettable experience.  With the right destination, planning, and tips in mind, couples can have the ultimate wedding adventure!